Cyber Security Degrees and Programs
Channel Your Problem-Solving Skills into a Cyber Security Career
If you have a love of technology and all things related to cyberspace, then working toward a cyber security degree may be the right move for you. Whether you're looking to earn a bachelor's degree, associate degree or an undergraduate certificate, DeVry University can help you obtain the tools needed to prepare to pursue your cyber security career goals.
At DeVry, our online cyber security degree programs boast a mix of security and information technology (IT) courses taught by experienced tech professionals. You'll have the opportunity to explore modern cyber security and information technology concepts and build your understanding of real-world cyber security issues that you'll find in today's workplaces.
Classes Start Every 8 Weeks
Whether you know exactly where you're heading, or you're still planning your next steps, it all starts with a simple conversation. Let's talk.
---
Explore Our Hybrid and Online Cyber Security Programs
Gain an understanding of real-world cyber security issues by exploring current cyber security and information technology concepts.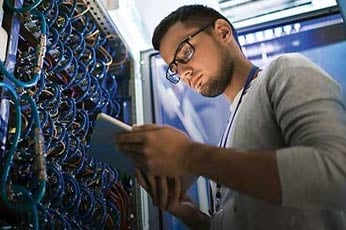 Undergraduate Certificate in Cyber Security
Build fundamental skills to combat cyber-crime and protect sensitive data across networks.
Learn More
Bachelor's Degree Specialization in Cyber Security Programming
Build your skills and learn how to defend data against cyberattacks using modern defense tools and tactics.
Learn More
Future Cyber Defenders Scholars Program
Take your ambition to the next level with a cybersecurity scholars program that helps you build your network, boost your skills and pursue the career you want. 
Learn More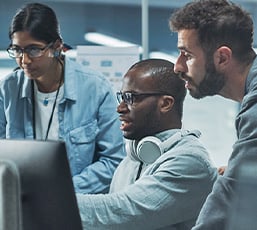 Associate Degree in Cybersecurity and Networking
Learn how to be an essential part of how organizations keep their networked devices, infrastructures and environments secure and running smoothly.
Learn More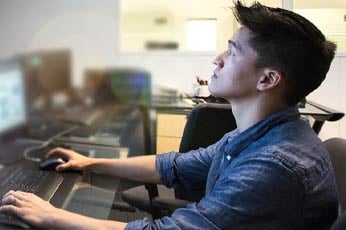 Bachelor's Degree Specialization in Cyber Security
Discover what it takes to protect against online attacks from hackers, learn how to build defense systems, and how to construct mechanisms to protect applications, systems and networks.
Learn More
Learn about Our Hybrid and Online Cyber Security Programs
Our cyber security degree programs are developed with your goals and schedule in mind. That's why our Information Technology and cyber security courses are available through either a hybrid or 100% online format.
Here's how our hybrid and online cyber security degree programs work:
Hybrid courses are a great option for students who want to combine the flexibility of online learning with the experience of in-person instruction. This allows for a flexible way to balance your daily schedule while taking some classes in person.
Online courses enable you to learn 100% remotely. Online students have access to all the same tools that in-person students do, including experienced faculty and career services support.
No matter what format you choose, our Bachelor's in Information Technology and Networking and Bachelor's in Computer Information Systems each with specializations in cyber security degree programs dive deep into a variety of disciplines, including Information Technology, server maintenance, ethical hacking and more.
We're dedicated to providing students with the tools and technology they need to thrive during their time at DeVry. Keep reading to learn more about our hybrid and online cyber security degree programs specializations and undergraduate certificate program.
DeVry University's Cyber Security curriculum is acknowledged and verified as an approved provider by NICCS.
Cyber security, sometimes called computer security, is the practice of making networks and devices safe from external and internal attacks. Typically, it involves a team of specialists working together to develop a set of defenses that keep sensitive information protected within a contained network, while also keeping intruders at bay with tools such as firewalls.
What are some cyber security programs available?
Is cyber security hard to learn?
As with any area of study, how challenging cyber security is depends on the student. However, with focus, hard work and dedication, there is no reason that earning a cyber security degree should be any more challenging than any other another degree.
What do you do in a cyber security career?
Most cyber security careers involve building safe networks that prevent attacks from outside forces, preventing information loss within an organization's infrastructure and still facilitating the free flow of information between devices within a network. There are many different types of cyber security professionals, and each has its own competencies. For instance, an ethical hacker specializes in breaking into systems to identify weak points, while a cyber security analyst would likely spend more time evaluating the system itself to recommend improvements.
At DeVry University, you will prepare to pursue a career in today's cyber security field supported by our tech-empowered learning. Our classes help students become comfortable with the technology being used in today's workplaces using a variety of methods including collaboration software, online homework tools and computerized accounting systems.
We also provide robust student support, including e-books, access to our e-library and more via our online student hub, DeVryYOU.
Download our mobile app so you can manage student life on the go! With tech-empowered learning, you will have the chance to grow your cyber security skills by using some of the field's latest technology, and step closer to achieving your goals.
Learn More about the Cyber Security Field