Insights from a Rich Network of Corporate Clients
As organizations across the United States enter Summer 2022, they confront a market for skills and talent that is unlike anything that business executives and leaders have experienced. Even as the COVID-19 pandemic recedes, geopolitical tensions both exacerbate existing challenges, and create a range of new scenarios that affect how organizations should think about recruiting, engaging, retaining and growing the talent needed to deliver on strategy.
Mid-Year 2022, Leaders Are on the Hook to Manage Five Key Strategies
Through thousands of corporate client relationships, we gather feedback and direction to help us align our programs and offerings. These unique relationships with our corporate clients provide us with insights into the current demands of teams and organizations. The following five key areas of focus is what we're currently hearing. I will also break down some critical tasks for each as you plan for the remainder of the year and beyond.
1. Develop talent strategies for (largely) unprecedented economic realities
During the second phase of the pandemic, a range of factors, including  no advancement opportunities, child care issues and lack of flexibility caused the nation's "quit rate" to reach a 20-year high last November. And now, sustained inflation – particularly in key skill areas – is putting significant budgetary pressure on organizations to retain talent without being able to pass costs fully on to customers. And while the looming specter of a potential recession may cool demand for "labor" more broadly, the chronic supply/demand imbalance in key skill areas will almost certainly persist.

Critical tasks for leaders: recruit and advance underrepresented individuals, actively seek out talent mobility to relieve pressure                    on recruiting, leverage non-monetary retention tools
2. Adapt talent strategies to reflect a sharply changed security and geopolitical landscape
With the current geopolitical landscape, organizations are taking stock on several key areas of risk. The most obvious is the need for more rigorous cybersecurity and information management risk management, which requires additional people and teams in an already tight cyber labor market. In addition, organizations are dealing with the possibility of moving key technology work back onshore, as conflict disrupts offshore operations and increased "tech and data nationalism" makes it more challenging to move data around the world.

Critical tasks for leaders: activate and upskill new sources of domestic tech talent, create cyber "step-in" roles bolstered by skill pathways
3. Secure the gains from digital transformation by changing the skill mix of corporate talent
Perhaps the most lasting legacy of the pandemic will be the radical transformation of consumer and business behaviors through sudden, rapid adoption of digital tools and processes. Almost every facet of basic commercial activity has been reshaped – from telemedicine, to touchless commerce, to digital supply chain management. In the process, the very nature of work and skills has also been changed – with need for both newer technology skills (e.g. hybrid cloud administration) and a broader need for tech-literate leaders and teams. In particular, leadership teams will need to confront three new realities:

The skill needs required by a surge in data across industries and departments
An explosion of device and remote computing as a result of 5G deployment
The need for a foundationally different security and expense management paradigm as more and more computing and applications migrate to the cloud
And, ironically, a new demand for digital skills around automation and touchless commerce as companies complete projects designed to let them operate in a labor shortage.

Critical tasks for leaders: create talent mobility plans that give top non-tech talent tech skills and pathways, develop strategies to boost data fluency throughout the organization, invest in the talent necessary to create sensor dependent business strategies
4. Deliver on stated diversity goals despite challenging market realities
Across the past three years, we have seen a remarkable shared commitment by organizations across industries to create a more diverse, equitable and inclusive leadership team and workforce. Driven by data like McKinsey's Diversity Wins report, which states "companies in the top quartile of gender diversity on executive teams were 25 percent more likely to experience above-average profitability," organizations have launched programmatic efforts – often backed by public targets and compensation plans – to create diverse teams at all levels. The challenge now confronting leaders is how to meet these goals without relying entirely on a narrow pool of "known" candidate sources.


Critical tasks for leaders: think creatively about where you're sourcing your talent inside the company through development plans and skill pathways and the demographics of the universities you're recruiting from, activate new sources of technology and leadership
5. Prepare to drive productivity and engagement in a now-changed world of work
Setting aside the oversimplified "return or remote" media debate, the pandemic has changed the very nature of how people and teams get work done. The most obvious change is that all organizations will continue to use collaborative and remote technologies substantially more than in the past. But organizations will also need to consider how they engage a more diverse organization through a deeper connection to purpose. Against this backdrop, the role of the manager/leader looks wildly different than just a few years ago.


Critical tasks for leaders: upskill managers to help them lead more diverse, distributed teams through skill building in areas like organizational change, source coaches to support your efforts
Almost unique in U.S. higher education, at DeVry we shape and reshape our curriculum in response to the needs and priorities of thousands of business clients. We do this to ensure our students have the work-ready skills to thrive in a world driven by constant technological innovation. If you're ready to hear how your peers are implementing some of the ideas I shared above, I encourage you to reach out today.
President and chief executive officer of DeVry University
Thomas L. Monahan III is president and chief executive officer of DeVry University. He is responsible for articulating the University's vision, mission and values with internal and external stakeholders, as well as supporting and enhancing the institution's academic mission and overall operations.
Get the latest DeVryWorks articles and information right in your inbox. *Fields marked with * are required.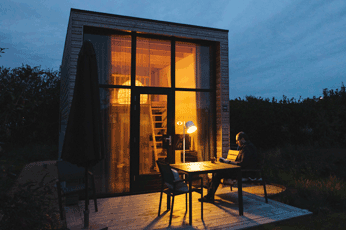 What can higher ed learn from Airbnb?
By Tom Monahan
Many of the most innovative companies launched in the past two decades have been two-sided marketplaces. Higher education needs to realize that it's one too.
Learn More