In the midst of the great resignation, employees have their pick of the litter when it comes to where and how they want to work. Given that 57% of people leave their job because they don't like their boss and the significant costs related to employee turnover, organizations are under increased pressure to think strategically about how managerial performance impacts not only engagement, but the bottom line.
Are the managers we have in place today capable of performing under this pressure? If not, how do we hold them accountable? If we're asking managers to do more, we've got to give future and current managers the tools they need to be more than just a manager.
To start, it's important to recognize that the manager profile, as we once knew it to be, responsible for overseeing task management, isn't going to cut it in the new work environment. To combat the impact of the great resignation, today's organizations need leaders who are the total package: a manager, coach and leader. I call this a trifecta leader. Managers vs Coaches vs Leaders: What's the Difference?
If you're looking to drive productivity, retention and engagement across your organization, you'll need to identify coaches, managers and leaders to oversee teams. It's rare that one individual is the trifecta – a coach, manager, and leader. But that doesn't mean they can't get there. You can take deliberate action to ensure that you are honing the skill sets they need to become the trifecta. To start, you've got to understand their current profile. So, what's the difference?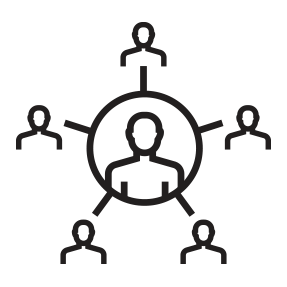 Manager
Managers tend to manage performance. They can tell an employee if what they are doing is right or wrong and evaluate their performance and progress. Managers who lack leadership and coaching skills can become deterrents to change and growth. With such a limited scope, it's easy to understand why companies need to look for people who are more than just managers if they want to succeed.
Coach
Coaching is about helping individuals and teams understand the why behind the what and adopt and excel at the behaviors that are required to drive change. Coaches often exhibit or learn the following skills and behaviors:
Understands that their team member is a human, a person, who has their own professional interests, passions and career goals
Taps into people's motivators and goals to get people to shift or elevate
Are storytellers that can communicate key concepts using examples from both outside of the workplace and your industry/function
Understands the reasons for change and are willing to make the changes themselves
Understands resistance to change and how to change that perception
Can effectively communicate the benefits of change at an individual's level
Can coach individuals through challenges and change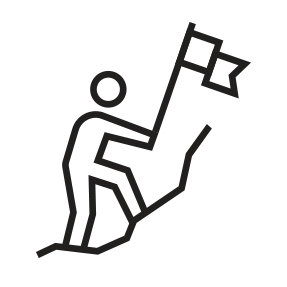 Leader
A true leader is a unicorn. Leaders have strong coaching and managerial skills, but with an extra skillset of casting a vision, setting a strategic direction, and creating a shared sense of purpose.
How are Trifecta Leaders Developed?
If finding the trifecta leader is like a needle in a haystack, but with significant business implications at play, what can you do?
Identify those with the potential to become the trifecta and consider the entire roster. High performers often get elevated into manager roles given their proven track record of success. But high performance doesn't equate to high potential.
Only one in six employees entering a high-potential program will succeed in a senior role and only 15% of employees performing well in a role today have what it takes to rise to and be effective in more senior and challenging roles in the future.
Instead of focusing on their current performance, look for the skills and characteristics that coaches and leaders exhibit. As you work towards building trifecta leaders, you could even consider adding 'coaches' as separate roles on your team.
Develop Your Managers into Coaches and Leaders
As part of your own talent development roadmap, ask questions at all levels to assess where the skills gaps are in your managers and on your teams.
For your existing managers, it's critical to enable them to develop skills they need to become coaches and leaders. Enrolling managers in multi-organizational leadership or change management cohorts helps them build their network, internally and externally, and build these critical skills while also making them feel valued and connected.
As you work to build the skills of a trifecta leader, know that they are a precious employee and are far more likely to be poached. As a leader, give extreme consideration to how you plan to retain and engage these individuals.
How Can Curated Learning Pathways Help?
What is holding your team back from achieving the trifecta? Your managers need a fighting chance to lead the change you're facing today, and inevitably what you'll face in the future.
Investing in your managers, especially at the beginning, can make way for breaking down the barriers that are holding them back—and ultimately, the team.
Putting managers and coaches into a multi-organization learning environment enables them to elevate their skills while building valuable connections.
If you are striving to develop that trifecta leader who can manage, coach, and lead, let's further talk about how we can help.
Senior Manager of Sales Enablement, DeVryWorks
Jenna McCoy provides strategic leadership over the DeVryWorks commercial partnership process, upskilling of the DeVryWorks strategic account management team and supports sales technology innovation. In addition, she leads development of the customer buying journey by collaborating with product, marketing, sales and service to evolve the corporate partnership process based on partner needs.
Get the latest DeVryWorks articles and information right in your inbox. *Fields marked with * are required.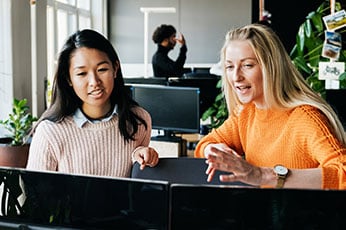 Upskilling: How You Can Replicate What Large-Orgs Are Doing
By Clark Barber
It's unlikely you haven't had internal discussions about how your department must evolve to support your clients' new set of needs. For most companies, the answer is undoubtedly accelerating digitalization efforts agreed upon before the pandemic, and perhaps new ones that have arisen. Aside from making the right technology choices, the question your peers are asking is, "How do I ensure my team has the skills to keep pace?"
Learn More