By Issam Abu-Ghallous & Sid Ahmed Sahnoune
In the initial shock of the "black swan" event that was (and is) COVID, it should come as no surprise that many people questioned the validity and effectiveness of predictive analytics in the supply chain. However, those in the logistics and supply chain field know, "If not predictive analytics, then what?" Do supply chain leaders simply operate in the dark? Should they focus only on immediate demand and turn a blind eye to what may (or may not) come to be?
Obviously, that is not the answer. Supply Chain Analytics still has a very important place in supply chain management, perhaps more so than ever. In a report by Thomson Reuters, ONESOURCE stating, "The three biggest benefits for using big data within supply chains are traceability, relationship management (e.g., better customer service), and forecasting/predictability." However, it's how we harvest, analyze and deploy that data that has evolved. Below are five recommendations for supply chain leaders to consider to help make the most of predictive analytics moving forward:
Focus less on demographics, and more on tastes and preferences
Historically, customer data analytics has been rooted in the segmentation of fairly static demographic information. Think age, gender, location, income level, educational attainment. Today, that data is largely considered to be too simplistic or generalized. The businesses that are position well to win are the ones that are tuned into, and that react to, the constantly evolving tastes, trends and preferences of their customers. It's no longer about "who they are," but rather "how and why they buy." It's a more nuanced, personalized focus on the customer. It's also what customers today expect—personalized experiences.
The concept of "big data" is nothing new. It wasn't that long ago that most companies invested heavily in servers and teams of data administrators to store all of their data. That typically represented a huge expense, which often proved not to be scalable over time. Fortunately, today there are cloud-based solutions, such as Google Cloud or Amazon Web Services, which can be affordable, scalable, secure, reliable, faster to implement and provide access to information anywhere in the world.
Supply chain leaders can rely on this flexibility to efficiently build and act upon the vast amount of data required for supply chain analytics. That volume of data will of course keep growing. The cloud can help you efficiently scale to meet data needs.
Leverage the Internet of Things
The Internet of Things (IoT) is often the powerhouse behind the tracking of the many moving parts of the supply chain. Therefore, as you can imagine, advances are coming at lightning speed so you should be aware of the benefits of further adoption. Some of the major advancements are RFID, Bluetooth and NFC tags for asset tracking and warehouse management. And when it comes to managing fleets, companies are using GPS technologies and real-time tracking to stay informed on routes, delivery speed and tracking. All of this combined allows you to make more informed decisions around creating efficiencies.
Make Sure Your Team Has the Skills Needed
Even if you leverage all the recommendations above, your success will largely depend on your people.
Data inputs: the information you get is only as good as the data that's put in. Therefore, you need to ensure the people using the technology are properly trained. That's mainly vehicle drivers and warehouse workers, think of these people as anyone with responsibility for inputting data into the system. Don't forget they'll need training on security practices, to help protect your data.


Data setup and analysis: data is largely meaningless if you don't have the people with the skills to establish, dissect and draw actionable conclusions from it all. To successfully leverage supply chain analytics, you need data scientists and analysts who understand how to collect, curate and analyze complex data sets from multiple sources.
The need for these analytical skills is clear: the U.S. Bureau of Labor Statistics predicts the number of jobs in the data science field will increase by 28 percent through 2026, which is roughly 11.5 million new jobs in the field. Clearly, the demand is high, and the competition for talent no less fierce. If you have high potentials on your team, consider upskilling as an option. In the very least make sure you have a talent succession plan mapped and you're checking in with your team consistently. Keeping pace with the market and competition is complex, ensure your team is engaged and focused on business outcomes.
Your customers expect you to offer exactly what they want, when and how they want it. Creating that ideal purchasing experience requires companies to place data and supply chain analytics at the core of their business strategy—and the demands have never been higher.
About  Issam Abu-Ghallous
Issam Abu-Ghallous, Ph.D., MBA, Associate Professor of Economics, DeVry University
Issam earned a BA in Business Administration from Bethlehem University in Palestine, an MBA from Lewis University, and a Ph.D. in International Economic Development from the University of Southern Mississippi. Issam joined DeVry University in 2015 and is currently teaching and designing economics and international relations courses.
Sid Ahmed Sahnoune, Ph.D., Associate Professor of Business Intelligence and Analytics Management
Sid Ahmed Sahnoune is an Associate Professor of Business Intelligence and Analytics Management at DeVry University. He has a Ph.D. in Economics and Applied Statistics, with more than 8 years of teaching Business and Data analytics. His research interests are Predictive Analytics, Volatility Modeling and Quantitative Finance.
Get the latest DeVryWorks articles and information right in your inbox. *Fields marked with * are required.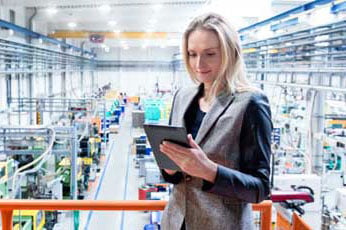 Digital Transformation: 3 Key Areas Where Supply Chain Leaders Should Focus
By Alex Hosch
Supply chain digital transformation is no doubt an imperative to help supply chains run more smoothly while providing actionable intel. Ambitious, yes, but that belief isn't necessarily overstated. The digitization of the supply chain is critically important and long overdue in many sectors, particularly given the vast changes we've experienced over the past couple of years.
Learn More