February 15, 2022
8 min read
Supply chain digital transformation is no doubt an imperative to help supply chains run more smoothly while providing actionable intel. Ambitious, yes, but that belief isn't necessarily overstated. The digitization of the supply chain is critically important and long overdue in many sectors, particularly given the vast changes we've experienced over the past couple of years. According to a study by the Council of Supply Chain Management Professionals (CSCMP), 42% of organizations have accelerated their digitization plans due to the pandemic. However, a recent Harvard Business Review Analytic Services study showed that more than 70% of companies believe their key supply chain capabilities, including logistics, procurement, and inventory management, are digitally "immature."
But where to begin? "Digital transformation" can mean so many things (what isn't digital these days?) and impacts virtually every aspect of the supply chain. Oftentimes, it can feel overwhelming to the point of inaction for supply chain leaders.
That said, there are specific dimensions of the supply chain that are particularly ripe for digitization. Below we dive into three of them:
#1 Evolve the System(s) You Use to Track your Supply Chain
Even with all the machine learning (ML) and artificial intelligence (AI) driven tools available to supply chain leaders today, many businesses still rely on manual or home-grown processes to track inventory levels, lead times and transportation visibility. More than 50% of organizations have not yet actively started to build a roadmap for supply chain digital transformation. Sure, those manual processes may have served those companies well in the past. However, going forward, the pace and volume of information, and the need to accurately track a business' supply chain, demand automation to allow for more precise and responsive planning.
There is an inherent lag in information when businesses depend on manually updated tracking systems. Through 2023, less than 5% of control-tower-like deployments will fulfill their end-to-end potential due to mindset and cultural obstacles. In today's highly distributed global supply chain, those manual systems simply can't keep up. Plus, they present significant risks to data quality and integrity.
One solution is to invest in a manufacturing resource planning (MRP) software package, which is designed to create detailed production schedules using real-time data to coordinate the arrival of materials with machine and labor availability. Implementing an MRP can be a critical first step in digitizing and automating the basic infrastructure of many supply chain tracking systems. Eventually, many organizations choose to adopt an enterprise resource planning (ERP) tool, a more comprehensive solution that integrates areas such as planning, purchasing, inventory, sales, marketing, finance, and human resources.
#2 Invite Your Vendor Networks Along WITH You
As any supply chain leader knows, a supply chain is highly dependent on a multitude of vendors that must be able to work seamlessly with your systems. Therefore, as you go digital and automate your processes, so do your vendors. That can be easier said than done, of course.
When onboarding new vendors, the solution can be somewhat simpler. With an MRP or ERP platform in place, supply chain leaders can write into contracts, vendors must be able to work with those systems and demonstrate the capability to match if not improve operation efficiencies, with clear and detailed expectations.
However, for existing vendors, the approach will likely have to be more nuanced. A vendor may be a critical supplier of parts that could be difficult to source from elsewhere. Making a sudden demand for full digitization and integration with your systems could upset the apple cart in ways you don't want. Switching vendors can be very costly and time consuming. Instead, take the time to walk key vendors through your plans for digitizing your systems and the rationale behind it. Ask them about any plans they have for upgrading their systems and processes. The solution might be to add an addendum to an existing contract with a timeline that works for both you and your vendor. The point is to go into the conversation in the spirit of collaboration with the goal of finding a mutually beneficial solution.
To successfully facilitate these conversations, supply chain leaders should also look inward to ensure their own procurement and vendor management teams are equipped and empowered to lead these more strategic discussions. Do they know how and why you are going on this digital transformation journey? They need to be able to articulate that story to your vendors.
Finally, conduct annual due diligence evaluations on all of your critical vendors to determine if they are keeping up with your needs, particularly as you undergo a digital transformation. Weigh their importance to critical needs to your business with their ability to integrate with your systems. Use the outcomes of this due diligence process to thoughtfully plan for any changes to your vendor relationships going forward.
#3 Invest in Your People to Make Sense of it All
Finally, as impressive as automated MRP and ERP tools can be, it can be challenging to integrate them with your existing processes, especially if you don't have the talent on your team who knows how to make that happen. Therefore, when making the transition to a digital system, supply chain leaders must place a priority on ensuring they have a team with the training and skills to manage it all. Afterall, software solutions are only as good as the people and processes in place to set them up, use them to their fullest and manage them for the long-term. Working on spreadsheets and working with an integrated ERP require very different skill sets. Gartner even goes as far to predict that "by 2025, more than 50% of supply chain organizations will have a technology leadership role reporting directly to the chief supply chain officer."
A digital supply chain requires a fresh set of skills like analytics to support in data-driven decision making as well as organizational change and cross-functional collaboration. Take a look at your team and pinpoint those who would be good candidates for upskilling or reskilling. Then look across your organization to see if there are others you could source. Once you've identified these individuals, you'll likely find skills gaps that you need to help them close in order to be successful in these new roles. The great news is you likely have people you haven't even considered—you might just need a fresh perspective.
The bottom line, supply chain leaders can't be putting out supply chain fires all day. They need a team they can depend on that has the tools and skills to make digitized systems and processes work. ML and AI are great at producing predictive models and pattern recognition can be extremely helpful in supply chain planning. Regardless, if you don't have the right people with the right skills to act, none of it does much good.
Ultimately, the success of supply chain digital transformation comes down to having people with the right knowledge, relationships and skills to keep everything running smoothly. If you're ready to start aligning your digital supply chain plans with your talent succession plans, contact us to learn how we can help.
Associate Professor, DeVry University and Keller Graduate School of Management
Alex Hosch worked in financial services, legal practice management, and software development for more than 25 years, prior to joining DeVry University in 2009. With an extensive background in enterprise risk management and project management, Alex is adept at procurement and financial supply chain management, and has utilized his supply chain expertise to ideate, innovate, and impact in the areas of procurement of information technology and information systems services and business information systems.
Get the latest DeVryWorks articles and information right in your inbox. *Fields marked with * are required.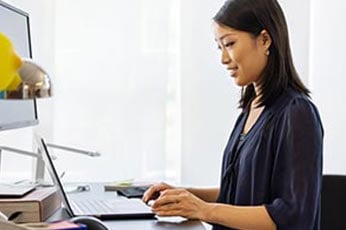 Digital Fluency: Your Team's Edge
By Elise Awwad
Regardless of your industry, you provide a product or service that without technology you likely wouldn't be able to maintain or grow your market share in.
Learn More