November 22, 2022
5 min read
In the wake of the Great Resignation, people are reassessing what their career means to them and how they want to grow professionally. Even more importantly, they are asking themselves how this growth aligns with their personal goals. In fact, 65% of employees say the pandemic has motivated them to rethink the position that their careers should have in their lives.1
According to Deloitte, "Generation Z will soon surpass Millennials as the most populous generation on earth, with more than one-third of the world's population counting themselves as Gen Zers."2 Yet they have radically different work expectations than the generations before them.
Gartner indicates that Gen Z is fearful of expiring skills, values development over compensation, and prioritizes giving and receiving coaching.3
Gen Z or not, individuals often have their choice of job offers, and organizations need to think differently about what attracts candidates in this competitive market.
Infuse organizational commitment to ongoing skill development into job postings to show applicants that personal and professional growth is achievable and encouraged within this role and with your company as a whole. Highlight examples of how other new hires have leveraged benefits and programs offered by the organization to grow within the company.
Determine which skills are essential to have on Day 1 and what skills can be obtained across their first year on the job. By promoting on the job skill development in the job posting, you can cast a wider net to applicants who may have considered themselves to be under qualified and appeal to those who desire ongoing development.
Tuition Assistance Programs Could Help to Recruit Top Talent
90% of large and midsized employers offer some kind of tuition reimbursement, yet less than 10% of workers use the tuition reimbursement4. Tuition programs offer tax benefits to both employers and employees. Money spent on tuition is tax deductible 3(up to a limit)5 which means that it ends up being a cost-effective way to develop and recruit talent. So how do we bridge the disconnect?
Offering Tuition Reimbursement isn't enough. You establish pre-defined learning pathways for these applicants. What that means is if you're hiring several people for a specific role, look at the skills needed and where your candidates typically have gaps. Then create learning pathways to get them the skills to fill those gaps in their first 12 – 18 months of employment with you.
If your organization offers a tuition assistance program, you may be able to use that to cover some or all of the cost. Here are some examples of how that might work:
Engineering Tech: If you need to hire 20 machine technicians in the next year, consider offering a learning pathway using the Engineering Tech certificate to your potential new hires.
Cybersecurity: Need to beef up your cybersecurity? Consider people from non-traditional backgrounds, industries, or those with tangential skillsets and then upskill them to meet the requirements of the role.
To the prospective new hire, the benefit of what such a program offers them is beyond financial savings. It gives them the option to build skills with a company that supports their pursuits.
DeVryWorks can help you establish relevant learning pathways to close critical skills while and make your open roles attractive to job seekers.
Senior Manager of Sales Enablement, DeVryWorks
Jenna McCoy provides strategic leadership over the DeVryWorks commercial partnership process, upskilling of the DeVryWorks strategic account management team and supports sales technology innovation. In addition, she leads development of the customer buying journey by collaborating with product, marketing, sales and service to evolve the corporate partnership process based on partner needs.
Get the latest DeVryWorks articles and information right in your inbox. *Fields marked with * are required.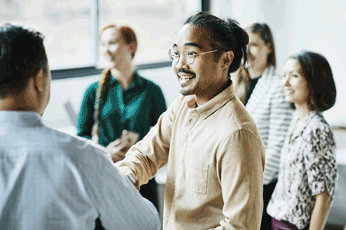 Internal Career Fairs Help Close Skills Gaps
By Jenna McCoy
In the midst of "The Great Resignation" and the high costs associated with turnover, organizations simply cannot afford precious talent to walk out the door. While there is a myriad of ideas when it comes to retention and career pathing, one often overlooked idea is an internal career fair.
Learn More