January 12 , 2023
6 min read
Research shows that when workers are recognized they're 82% happier. While recognizing workers might seem like a simple task – there's a misperception that exists. Eighty-nine percent of executive-level leaders believe recognition is doled out fairly at their company. The reality—only 62% of people in intermediate positions agree with them.1
Rewarding and recognizing your team leads to increased engagement, and in turn can yield increased retention and improve the overall workplace dynamic, helping to rally the team around common goals.
Recognizing people for their accomplishments sends a clear message that their efforts matter. To ensure fair recognition, you must reward your team based on their unique preferences, acknowledging it's not the same for everyone.
Here are five reasons why rewards matter to your people.
How to Motivate Employees with Rewards (Not Penalties), Limeade
Recognizing and rewarding your team members' performance can encourage them to stay motivated and maintain a positive outlook in the workplace. In addition to encouraging collaboration, recognition can provide individuals with something to strive for. Considering taking interest in your people's long term skill development as a means to showing recognition. One unique way to provide recognition to a team member is by curating a learning pathway. By having a vested interest in their development for their next role, you're signaling your support of their long-term vision for their career.
The Benefits of Showing Gratitude in the Workplace, Forbes
To keep individuals satisfied, show them how much you value their work. By acknowledging wins with rewards, you ensure they understand how important they are to the overall success of the organization. The process of seeing, hearing and valuing team members' contributions at work can have tremendous impact on their job satisfaction.
10 Ways to Increase Employee Productivity with Rewards and Recognition, Fond
Recognition of successes, whether verbal or in the form of a reward, can increase engagement at work. A team striving to achieve a common goal can harness their time and energy more efficiently to accomplish the goal. And teams who take pride in their work tend to take ownership of their responsibilities and complete them on time.
Rewarding Employees for Performance, Indeed
68% of HR professionals said employee retention was positively impacted by giving rewards2. Companies that value their people and demonstrate their appreciation with tangible actions are more likely to attract and ultimately keep people around and engaged.
A way of demonstrating appreciation for your team members is by leveraging tuition reimbursement to help them develop the skills needed to take the next step in their careers. An otherwise passive benefit can be transformed into a life changing career advancement tool for your team's lives and also signals your vested interest in their overall success.
5. Promotes a positive work environment
How to Create a Positive Work Environment in 10 Steps, O.C. Tanner
Team members who feel appreciated, motivated and satisfied tend to not only be more productive, but they also tend to have a more positive attitude and outlook. Those feelings are contagious, resulting in an enthusiastic and fulfilled workplace.
An organization's culture is crucial to its success. Engaging team members, ensuring they feel supported, motivated and encouraged can all be boosted with rewards and recognition initiatives.
Tuition Reimbursement: Transforming a passive benefit into a powerful lever for recognition
According to researcher and employee recognition expert, Dr. Bob Nelson, career development opportunities closely follow employee recognition, when it comes to impact on employee engagement.3 Not only does career pathing impact engagement, but acquisition and retention,4 especially amongst Gen-Z who are more likely to join and recommend an organization because of its education benefits.5
Consider recognizing team members by sitting together and mapping out a development program that results in them acquiring a credential, like a certificate or degree. How could that change the course of their life, how would you recognize that achievement at your organization? If you're ready to develop a unique recognition initiative leveraging tuition reimbursement and and tailoring learning pathways for career growth, it's time to connect with us.
Director of Sales Enablement, DeVryWorks.
By Jenna McCoy provides strategic leadership over the DeVryWorks commercial partnership process. In addition, she leads development of the customer buying journey by collaborating with product, marketing, sales and service to evolve the corporate partnership process based on partner needs.
Get the latest DeVryWorks articles and information right in your inbox. *Fields marked with * are required.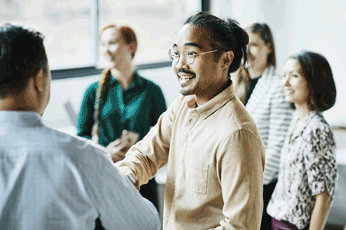 Internal Career Fairs Help Close Skills Gaps
By Jenna McCoy
In the midst of "The Great Resignation" and the high costs associated with turnover, organizations simply cannot afford precious talent to walk out the door. While there is a myriad of ideas when it comes to retention and career pathing, one often overlooked idea is an internal career fair.
Learn More
1 Can employee recognition help you keep them longer?, Survey Monkey
2 SHRM/Globoforce Using Recognition and Other Workplace Efforts to Engage Employees, SHRM
3 3 Secrets to Effective Employee Engagement, Inc.
4 New Study Shows the Lasting Impact of Tuition Assistance, Businesswire
5 Working Learner Index, Bright Horizons