There has been some progress in helping women in the workplace advance to management positions, but women remain underrepresented.
If this trend continues, organizations may miss out on the rewards of advancing more women in the workplace. It's essential to first lay the groundwork that will make your organization's culture a place where women can grow. Here are several initiatives you can start to help women advance in the workplace.
1. Set the Right Tone From First Interview to Overall Culture
A conducive environment for growth starts with your organization's culture. Human Resources can set the tone when interviewing candidates, but Diversity, Equity and Inclusion (DEI) in the workplace is grounded in the leadership and actions of the management team. Leaders need to model the culture you're trying to instill while giving team members the respect and autonomy to establish an environment that's meaningful to them.
As far as establishing a culture that elevates women, women in the workplace may typically look for more support and flexibility to combat the levels of stress and exhaustion that can tend to disproportionately impact them. McKinsey reports that women can become more burned out than men, and this can lead to thoughts of exiting the workforce.
Leaders can improve DEI in the workplace by modeling the inclusive culture that they want to instill. There should be a proactive campaign to learn how women in the workplace want to be supported, followed by a concerted effort to address their needs.
2. Emulate Flexibility and Empathy from the Top
Even with many jobs moving to work-from-home (WFH), over the past couple of years, this doesn't directly translate to increased flexibility. Rather, many have found that remote work has resulted in an "always-on" expectation, and 28% of women with children under 18 years of age have now left the workplace to attend to their family needs.
A takeaway for leaders is that flexibility means different things to different people, and leaders need to dig into what real impact WFH has had on their team members. Start by asking your team what flexibility means to them and how you can help them establish that flexibility in a meaningful way. A flexible workplace can reduce stress and increase productivity, which may help you retain more women, and even motivate them to pursue higher-level roles in your organization. This could prove beneficial to your organization, considering a Peterson Institute for International Economics survey found that having women at the C-Suite level significantly increases net margins.
3. Move Past Unconscious Bias
When an unconscious bias exists, it may lead some to believe that women cannot handle a certain workload, or that they have "something to prove" when they advance to higher levels in their career. While this may not be a direct reflection of your workplace culture, organizations can find ways to put a stop to this problem. Modernize these outdated beliefs by building a framework that will bring them to light. For example, encourage an open discussion with your employees about how biases affect them, which may help them also recognize their own.
Working with your teams to move past unconscious biases is helpful, but there should be a constant dialogue as well. It can be established by promoting conversations that can build trust among your employees, or by providing a platform where they can report issues and send feedback anonymously.
4. Build a Representative Board of Directors
Having women in top positions is a great place to start in elevating their voices and driving diversity at the highest levels. That said, even though more women are in the boardroom, the percentage is still imbalanced. Today, women hold just 12% of seats globally, and only 4% act as board chairwomen.
This imbalance has its roots in the lower levels. Management consulting firm McKinsey & Company reported that as of last year, the overall percentage of women holding leadership positions is still below the parity line — for every 100 men who are given top-level roles, only 86 women are promoted.
There are unique ways to source women for board seats such as formal inquiries through a search firm or tapping board member networks to seek women who have a background in leadership roles. It's also important that you encourage your female leaders, peers, and friends to actively pursue board positions.
5. Create Lifelong Learning Channels that Support Skill Adaptability
Your organization should be built on a culture of growth and opportunity for all. It's important to not only focus on developing job-specific skills, but also leadership, organizational change and soft skills as well. Motivating teams takes skill and practice and an open mind to evolving oneself. All of that development can be lifted by having a keen eye on who you're elevating throughout the ranks, emulating empathy, illustrating that balance should be had by all, and by sending the elevator back down—that evolution is what can create great leaders and a culture of care.
If you're interested in learning more about programs that might help supplement the work you're already doing to help the women on your teams advance, I encourage you to connect with us and we'll work together to create a plan that supports your goals.
Chief Operating Officer, DeVry University
Elise Awwad is the Chief Operating Officer of DeVry University. She has oversight of all student operations to ensure a positive and consistent experience for DeVry students and corporate partners.
Get the latest DeVryWorks articles and information right in your inbox. *Fields marked with * are required.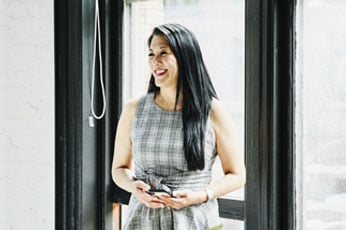 How Leaders Can Help Empower Women in the Workplace
By Elise Awwad
Women now surpass men making up 50.2% of the college-educated labor force, up from 45.1% in 2000. While this number is positive to be sure, what's troubling is women's advancement in the workplace is stagnant or simply stalling at every step along the way. Read this article for six ways leaders can step up to support women on their teams, and help them achieve the career they deserve.
Learn More