By Issam Abu-Ghallous & Luan Eshtrefi
April 19, 2022
7 min read
One of the most challenging economic dilemmas today, which effects business leaders and consumers, is high inflation. On average, prices have risen about 7.9% since 2021, with some commodities experiencing close to 50% price inflation. These videos examine topics such as:
The causes of current high inflation
The implications of higher prices
What you should know and do to survive the rapid hike in prices
Macroeconomic Indicators: GDP and Unemployment
Inflationary Pressures and Sectoral Examples
Sources and Implications of Inflation
Projections and Takeaways
About  Issam Abu-Ghallous
Associate Professor of Economics, DeVry University
Issam earned a BA in Business Administration from Bethlehem University in Palestine, an MBA from Lewis University, and a Ph.D. in International Economic Development from the University of Southern Mississippi. Issam joined DeVry University in 2015 and is currently teaching and designing economics and international relations courses.
Associate Professor of Business and Economics, DeVry University
Dr. Eshtrefi has two decades of experience in higher education, mainly teaching abroad. He teaches Business Economics and International Business at the Keller Graduate School of Management and has research interests in the fields of regional integration economics, entrepreneurship, and international business.
Get the latest DeVryWorks articles and information right in your inbox. *Fields marked with * are required.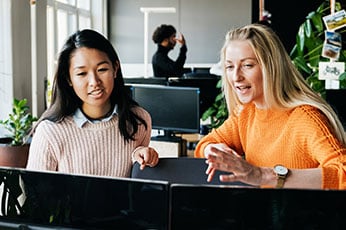 Upskilling: How You Can Replicate What Large-Orgs Are Doing
By Clark Barber
It's unlikely you haven't had internal discussions about how your department must evolve to support your clients' new set of needs. For most companies, the answer is undoubtedly accelerating digitalization efforts agreed upon before the pandemic, and perhaps new ones that have arisen. Aside from making the right technology choices, the question your peers are asking is, "How do I ensure my team has the skills to keep pace?"
Learn More