February 2, 2023
8 min read
5 Ways to Create an Environment that Champions DEI
The success of diversity, equity, and inclusion (DEI) initiatives in your work environment will ultimately be determined by whether companies have the support of their employees at every level. Here are five ways to create an environment that champions DEI.
32 Ways to Promote Diversity, Equity and Inclusion (DEI) in the Workplace, Zavvy
Whenever new initiatives are announced, executives have the unique opportunity to set the tone for the entire organization. Communications from leadership, as opposed to impersonal HR reports, will carry more meaning and weight. Employees and shareholders can get more involved in DEI initiatives if you include information about them in your monthly email letters and talk about them at company meetings.
2. Make DEI Part of Your Business Plan
Your DEI-Centered Business Plan, Purposeful Hustle
Businesses that make effort to tie DEI into their overall mission communicate to their audiences that diversity and inclusivity are important to them. You will not only be able to demonstrate ROI to stakeholders, but also provide them with a sense of security that you are taking crucial steps to strengthen and maintain your workforce.
3. Embrace DEI on Every Level
3 Ways Leaders Can Get Their Employees to Support DEI Efforts, Gupta Consulting
Participating in DEI-focused conversations and receiving feedback from employees at every level — from interns to top leaders — is another crucial element in getting buy-in from everyone in your organization. To demonstrate your commitment to DEI efforts, you must engage your employees on the ground floor. You will also demonstrate your willingness to listen to everyone and make important changes to support an inclusive workplace.
4. Be Authentic with DEI Connections
How Sharing Our Stories Builds Inclusion, Harvard Business Review

Creating a connection with others in your organization and emphasizing your commitment to championing DEI efforts can be enhanced by sharing personal experiences with DEI. 
There is a possibility that you or someone you care about has been discriminated against. Do not be afraid to share your story when it is appropriate. Create an environment where other employees in your organization feel comfortable sharing their experiences if you haven't experienced discrimination yourself.
5. Demonstrate the Importance of DEI in the Workplace to Potential Candidates
How to Show Candidates You're Committed to Diversity, Equity and Inclusion (DEI), Monster
When recruiting diverse talent, there are many ways an organization can demonstrate that DEI is a priority at the top of the organization. Aside from having a DEI hiring policy in place, see that your organization's Equal Employment Opportunity statement is publicly accessible and can be viewed by potential hires. Highlight your ERGs (employee resource groups). Ensure that job postings don't reflect any unconscious biases by using gendered terms. 
Have direct conversations about your company's commitment to DEI and the ways it affects the workplace environment. By including your DEI message in onboarding materials, you can ensure you are sending your message directly to new employees.
Relationship building is at the foundation of creating a solid and capable group of DEI champions in your organization. DEI champions take part in sharing the message and leading by example as a means to create a culture of belonging. 
We have just explored five ways to champion DEI in an organization, providing a great starting point for your DEI journey. Here are a few takeaways to remember:
The methods all involve leading by example in one way or another

Listen carefully and share the data where needed 

Do not be afraid to have difficult conversations
Embark on the journey of creating work environments that embrace and champion DEI. Your company's efforts will be more successful if you take these steps.
Chief Inclusion, Belonging & Equity Officer

Veronica Calderon is the chief inclusion, belonging and diversity officer at DeVry University. Among her responsibilities, Calderon will lead the implementation of the long-term vision and goals of diversity, equity and inclusion the university, including building new diversity, equity and inclusion programs and training for students, faculty and colleagues and oversee its employee resource groups (ERGs).
Get the latest DeVryWorks articles and information right in your inbox. *Fields marked with * are required.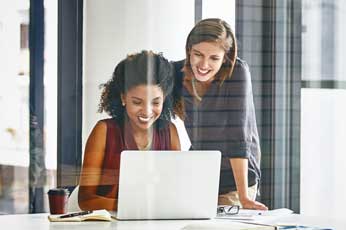 How Building a Culture that Elevates Women Can Support All
By Elise Awwad

There's been some progress in helping women in the workplace advance to management positions, but women remain underrepresented. It's essential to first lay the groundwork that will make your organization's culture a place where women can grow.
Learn More