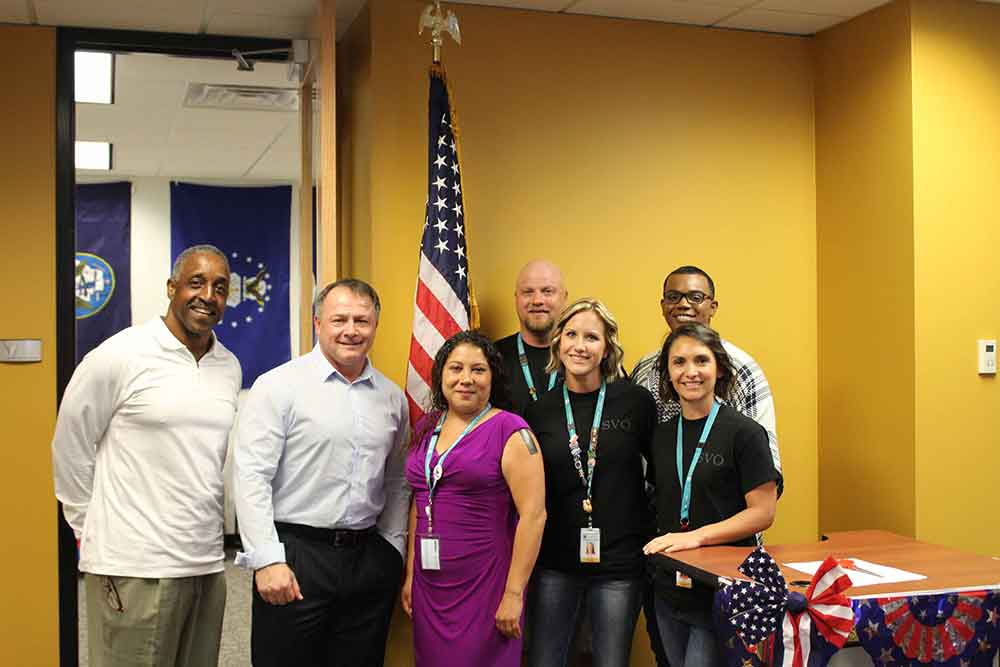 Photo (left to right): Guest speakers Carl Hardgrave, former NFL coach, and Mike Broomhead, Morning Drive host for News Talk 550 KFYI, at the unveiling of the Veterans' Resource Room at DeVry's campus in Phoenix today with the campus Veterans Club leadership Angela White (president), Douglas Brook, April Rosscup, Joseph Guevara and Laura Saenz.
PHOENIX, Ariz. – July 6, 2016 – DeVry University unveiled its Veterans Resource Room at its campus in Phoenix today with a ribbon cutting ceremony. The resource room, which will become the newly dedicated space for military and veteran students, will provide an opportunity for military students—whether active-duty or veterans—to connect with each other, network, and obtain the resources, support and advocacy needed to succeed in college. Resources and ongoing workshops will be offered to encourage these students to develop their leadership style, implement new ideas, develop strong organizational skills and collaborate with fellow students and staff.
"In recognition of the invaluable service and tremendous sacrifice our military and veteran students provide our nation, DeVry University is committed to providing the necessary support and resources these students need to be successful in their academic career," said Greg Pace, national director, Military and Veterans Affairs. "We will continue to identify the specific needs of our military students to assist them in achieving their educational goals."
Former NFL coach Carl Hardgrave, and Mike Broomhead, Morning Drive host for News Talk 550 KFYI offered their support by providing remarks prior to the ribbon cutting. Rep. Jonathan Larkin, who could not join us, offered his comment: "As a veteran and a DeVry student, I look forward to being able to use this space and take part in the programs offered here. I applaud DeVry's commitment to the military and veteran community and this resource room is just one way the university continues to demonstrate that dedication."
For more than 80 years, DeVry University has helped military members, veterans and their families achieve their career goals through education–from training Army Air Corps instructors on electronic devices in the 1940s to being one of the first schools approved to accept the original GI Bill®[1] after World War II.
The event was free and open to the community. Friends of Freedom provided the food and beverages.
[1] GI Bill® is a registered trademark of the U.S. Department of Veterans Affairs (VA). More information about education benefits offered by VA is available at the official U.S. government Web site at www.benefits.va.gov/gibill.