DeVry University Appoints Chayse Slovinski as Campus Director of Cleveland Metro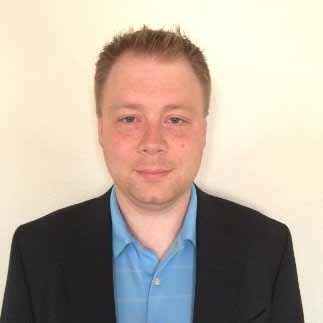 CLEVELAND – (October 28, 2015) – DeVry University has announced the appointment of Chayse Slovinski as campus director of its Cleveland metro campus in Seven Hills, Ohio.
Slovinski has more than seven years of operational leadership experience in higher education, including serving as the interim campus director of DeVry University's Indianapolis and Cleveland campuses since 2012. Prior to serving as the interim campus director, he served as the director of admissions at the Indianapolis campus.
"Since he first joined DeVry University, Chayse has been a strong leader whose steadfast work ethic has inspired students and faculty alike," said Darryl Field, group vice president of DeVry University's central region. "His dedication and enthusiasm to help our students achieve their academic and professional goals makes him a vital asset to the Cleveland campus."
Prior to joining DeVry University, Slovinski worked for Brown Mackie College as the director of admissions in Indianapolis. He also held a variety of roles at ITT Technical Institute, including manager and director of recruitment. Before beginning his career in higher education, Slovinski served as a credit manager at Wells Fargo Financial.
"I have been honored to work with faculty and students at multiple DeVry University campuses and I am always impressed by their professionalism and dedication to academics," Slovinski said. "I am fully invested in ensuring the Cleveland campus continues to provide students with excellent educational opportunities."
Slovinski earned his bachelor's degree in business administration and marketing from Grace College and his master's degree in business administration, with a marketing concentration, from DeVry University's Keller Graduate School of Management.
For more information about DeVry University, visit devry.edu.
About DeVry University

DeVry University's mission is to foster student learning through high-quality, career-oriented education integrating technology, business, science and the arts. Founded in 1931, the university offers undergraduate and graduate degree programs onsite and online covering 34 different career fields within its five distinguished colleges of study: Business & Management, Engineering & Information Sciences, Health Sciences, Liberal Arts & Sciences, and Media Arts & Technology. The university is accredited by The Higher Learning Commission (HLC, www.hlcommission.org). Its highly credentialed faculty members work in the fields that they teach, providing real-world experiences that prepare students for in-demand careers.
With locations across the U.S., DeVry University is one of the largest private-sector universities in North America. The university is a part of DeVry Education Group (NYSE: DV), a global provider of educational services.
###
Contact(s)
Melanie Wright
DeVry University
215-591-5909
mwright1@devry.edu
or
Katie Pearson
MSLGROUP
312-861-5248
katie.pearson@mslgroup.com