Olympic Hopeful Moza Fay to Address Graduates at DeVry University Commencement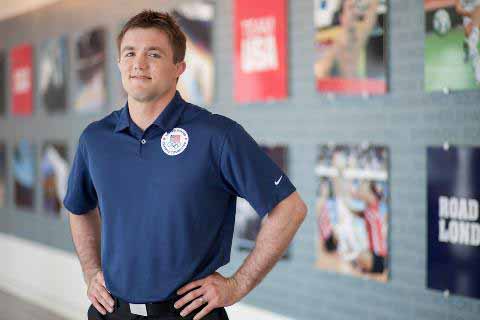 SANDY, Utah, June 24, 2014 - Olympic Hopeful Moza Fay will deliver the keynote address at DeVry University's commencement ceremony on Saturday, June 28 at 10 a.m. More than 40 graduates from DeVry University's Sandy Campus and online students from the area will be conferred at The Events at Jordan Commons in Sandy, Utah, where Fay will speak to the importance of determination.
Fay is a freestyle wrestler training for the 2016 Summer Olympic Games which will take place in Rio de Janeiro, Brazil. The 28 year-old has been wrestling competitively since the age of six and has won multiple titles across the 70 and 74 kg weight classes. Most recently, he took second place in the 2014 U.S. Open Men's Freestyle Championships in the 70 kg weight class and first in the 74 kg in the freestyle wrestling category at the 2014 Armed Forces Championship.
Aside from being an Olympic athlete, Fay is also a dedicated student. He holds a bachelor's degree in physical education teaching and coaching from the University of Northern Iowa and is pursuing an MBA at DeVry University's Keller Graduate School of Management.
The Iowa-native is a husband, father and sergeant in the U.S. Army, serving in the air defense artillery. In May 2013, he joined the Army's World Class Athlete Program, which supports Olympians, Paralympians and hopefuls, through their athletic training while also maintaining a professional military career.
DeVry University is an official education provider of the United States Olympic Committee. With more than 100 student athletes currently enrolled, DeVry University and its Keller Graduate School of Management provide higher-education opportunities at the undergraduate and graduate levels to U.S. Olympic and Paralympic athletes and training hopefuls.
About DeVry University
Founded in 1931, DeVry University is one of the largest, private sector universities in North America. The university's mission is to foster student learning through high-quality, career-oriented education integrating technology, business, science and the arts. With more than 90 locations, DeVry University delivers practitioner-oriented undergraduate and graduate degree programs onsite and online that meet the needs of a diverse and geographically dispersed student population. Home to five colleges of study, including Business & Management, Engineering & Information Sciences, Health Sciences, Liberal Arts & Sciences, and Media Arts & Technology, DeVry University's outstanding faculty members work in the fields that they teach, providing students with real-world experiences that prepare them for high-growth careers.
DeVry University is institutionally accredited by The Higher Learning Commission and a member of the North Central Association of Colleges and Schools, www.ncahlc.org. DeVry University, a part of DeVry Education Group Inc. (NYSE: DV), is based in Downers Grove, Ill. For more information about DeVry University, find us on Twitter @DeVryUniv, Facebook /DEVRYUNIVERSITY or visit newsroom.devry.edu.
Photos/Multimedia Gallery Available: https://www.businesswire.com/multimedia/home/20140624005510/en/
Contact(s)
DeVry University
Donna Shaults, 630-353-9013
dshaults@devry.edu
or
MSLGROUP
Emily Kellam, 312-861-5262
emily.kellam@mslgroup.com