Senior students create an 'eco-friendly' solar backpack
An innovative solar-powered backpack created by three engineering seniors from west Houston's DeVry University could save lives and have commercial potential, according to their professor and a state parks director.
"I think it's a good idea," said Robert Crossman, who heads maintenance management for Texas Parks and Wildlife.
"We operate in a bunch places where there's no commercial power.
"There's a need for people out doing scientific work or on patrols to have a way to make sure their cell phone or satellite phone can be recharged without running an engine and consuming a bunch of gasoline."
It took three students three months to finish
Jimmy Espinoza, a Channelview/C.E. King area resident, Luis Soriano, an Inwood resident, and William Campoverde, a Spring Valley resident, came up with the "Eco-friendly Survival Backpack" for their senior electrical engineering project, in which they had to address a real world problem using alternative energy technologies .
The pack has a detachable 12-inch by 18-inch solar panel containing 60 solar cells, providing enough energy to power critical wilderness survival items such as distress signal lights, heaters, cell phones, walkie-talkies, radio and even a laptop for several hours.
As well as earning an A in the class, the students received recognition from state Senators Mario Gallegos, D-Houston, and John Whitmire, D-Houston, during a proclamation read on the Senate floor of the Texas Legislature in Austin recently.
It took the students about three months and $680 to complete the project.
Campoverde said the project involved a lot of trial and error as they experimented with the solar panels and tried to keep the weight down.
The students invested in 150 solar cells and burned through 20 as they tried to solder them together into a working panel, according to Campoverde.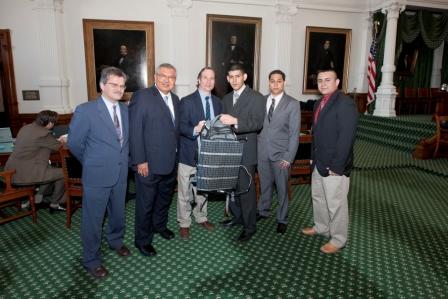 Pictured Above: DeVry University seniors, William Campoverde, Luis Soriano and Jimmy Espinoza presented Kevin Good, director of Texas Parks & Wildlife, with a solar backpack, the first of its kind, on Feb. 28th at the Texas State Capitol.
To read the full article written by Annette Baird, Chronicle Correspondent, please clickhere.