DeVry University Releases Third Edition of Journal of Scholarly Research
Journal Highlights Faculty Expertise and Academic Contributions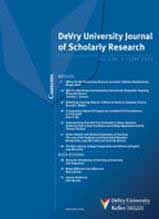 DOWNERS GROVE, Ill., July 10, 2015 - DeVry University today released the Spring 2015 issue of its Journal of Scholarly Research, a compendium of academic research written by university faculty members. This issue marks the third installment of the journal, which is published biannually in June and December.
The publication is a multi-discipline peer-edited journal devoted to issues of scholarship and education research, featuring submissions from the faculty, staff and administration of DeVry University. DeVry University values and promotes advancing scholarly research by continually encouraging faculty to actively participate in sharing significant academic contributions in their respective fields, among other opportunities.
"In addition to providing students with high-quality learning opportunities, academic and research pursuits are a core component of a faculty member's role at DeVry University," said Donna M. Loraine, Ph.D., chief academic officer and provost of DeVry University. "The Journal of Scholarly Research is a vehicle to spark conversation and inspire greater collaboration and interdisciplinary research among DeVry University faculty members and their academic peers in other nationally recognized research organizations."
Along with original scholarly papers from faculty members on a wide range of academic topics, the Spring 2015 issue includes a new book review section. Further enhancements are planned for upcoming issues to further contribute to the university's body of knowledge, foster discussions that lead to new scholarship, alert colleagues to new developments, and ultimately provide a broader and deeper view of the world, which can in turn be shared with students.
"Scholarly activity has always been on display at our annual faculty symposiums and the Journal of Scholarly Research offers us a more formal channel to share that with a broader audience," said John J. Gibbons, Ph.D., dean of faculty at DeVry University.
To find current and past issues of the journal, visit the Scholarly Research section of the DeVry University Newsroom: https://newsroom.devry.edu/scholarly-research/
About DeVry University
DeVry University's mission is to foster student learning through high-quality, career-oriented education integrating technology, business, science and the arts. Founded in 1931, the university offers undergraduate and graduate degree programs onsite and online covering 34 different career fields within its five distinguished colleges of study: Business & Management, Engineering & Information Sciences, Health Sciences, Liberal Arts & Sciences, and Media Arts & Technology. The university is institutionally accredited by The Higher Learning Commission and is a member of the North Central Association of Colleges and Schools, www.ncahlc.org. DeVry University provides an education that prepares its students for a lifetime of success with dedicated faculty and staff who are committed to their students' academic success. Its highly credentialed faculty members work in the fields that they teach, providing real-world experiences that prepare students for in-demand careers.
With locations across the U.S., DeVry University is one of the largest private-sector universities in North America. The university is a part of DeVry Education Group (NYSE: DV), a global provider of educational services. Find DeVry University on Twitter @DeVryUniv and Facebook at /DEVRYUNIVERSITY, or visit newsroom.devry.edu.
View source version on businesswire.com: https://www.businesswire.com/news/home/20150710005076/en/
Contact(s)
DeVry University
Melanie Wright
mwright1@devry.edu
215-390-0281
or
MSLGROUP
Katie Pearson
katie.pearson@mslgroup.com
312-861-5248