Olympian Johnny Quinn to Address Graduates at DeVry University Commencement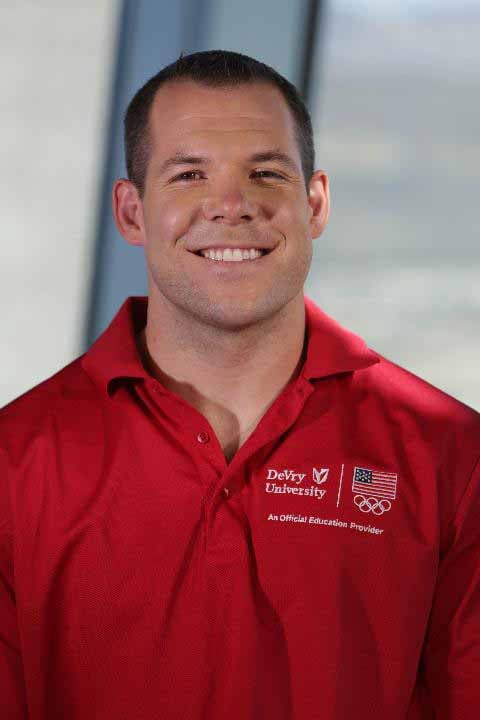 KANSAS CITY, Mo. – June 20, 2014 – Johnny Quinn, Olympic medalist, will deliver the keynote address at DeVry University's commencement ceremony on Sat., June 21 at 2 p.m.
More than 300 graduates from the Kansas City Campus, Kansas City Downtown Center and online graduates from the area will be conferred at the Overland Park Convention Center in Overland Park, Kansas, where Quinn will speak to the importance of how preparation and passion can lead to success.
Quinn finished 12th in the four-man bobsled at the 2014 Olympic Winter Games in Sochi, Russia. Previously, the Texas native played in the National Football League (NFL) for both the Buffalo Bills and Green Bay Packers. Although he performed well in pre-season games, he was ultimately released from the league. Within only a few years of his professional football career coming to an end, Quinn was named to the U.S. bobsled team and competed in his first Olympics.
Aside from being an Olympic athlete, Quinn is also a dedicated student. He holds a bachelor's degree in criminal justice from the University of North Texas, and is currently pursuing his MBA at DeVry University's Keller Graduate School of Management.
When Quinn is not training or studying, he is running his business. He is the founder and CEO of The Athlete Watch (TAW), an online athletic recruiting platform.
DeVry University is an official education provider of the United States Olympic Committee. With more than 100 student athletes currently enrolled, DeVry University and its Keller Graduate School of Management provide higher education opportunities at the undergraduate and graduate levels to U.S. Olympic and Paralympic athletes and training hopefuls.
About DeVry University
Founded in 1931, DeVry University is one of the largest, private sector universities in North America. The university's mission is to foster student learning through high-quality, career-oriented education integrating technology, business, science and the arts. With more than 90 locations, DeVry University delivers practitioner-oriented undergraduate and graduate degree programs onsite and online that meet the needs of a diverse and geographically dispersed student population. Home to five colleges of study, including Business & Management, Engineering & Information Sciences, Health Sciences, Liberal Arts & Sciences, and Media Arts & Technology, DeVry University's outstanding faculty members work in the fields that they teach, providing students with real-world experiences that prepare them for high-growth careers.
DeVry University is institutionally accredited by The Higher Learning Commission and a member of the North Central Association of Colleges and Schools, www.ncahlc.org. DeVry University, a part of DeVry Education Group Inc. (NYSE: DV), is based in Downers Grove, Ill. For more information about DeVry University, find us on Twitter @DeVryUniv, Facebook /DEVRYUNIVERSITY or visit newsroom.devry.edu.
# # #
Contact(s)
Donna Shaults
DeVry University
dshaults@devry.edu or 630.353.9013
or
Kristin Lane
MSLGROUP
kristin.lane@mslgroup.com or 312.861.5244