U.S. Olympian Elana Meyers-Taylor to Address Graduates at DeVry University Commencement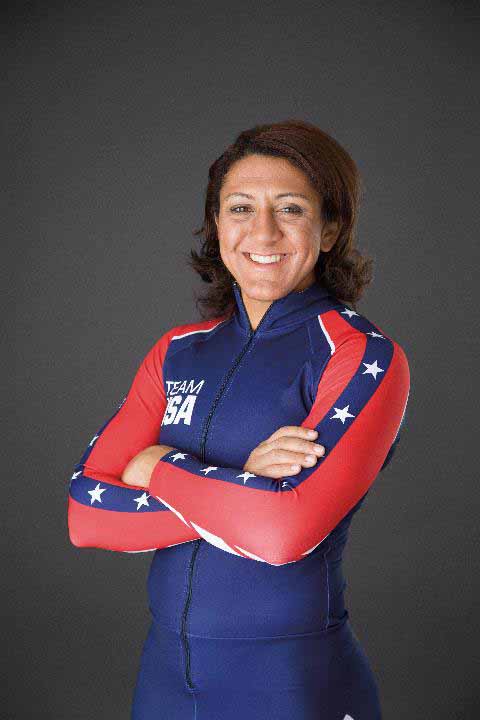 FREMONT, Calif., June 24, 2014 - Elana Meyers-Taylor, two-time U.S. Olympic medalist, will deliver the keynote address at DeVry University's commencement ceremony on Fri., June 27, at 11 a.m. More than 250 graduates from the Bay Area will be conferred at Chabot College's Reed L. Buffington Visual and Performing Arts Center in Hayward, California, where Meyers-Taylor will speak to the importance of perseverance and determination.
Meyers-Taylor earned a silver medal in the two-woman bobsled at the 2014 Olympic Winter Games in Sochi, Russia, and a bronze in the same event at the 2010 Winter Games in Vancouver, British Columbia. The Douglasville, Georgia, native is currently training with Team USA's women's rugby team in preparation for the 2016 Olympic Summer Games in Rio de Janeiro.
Aside from being an Olympic athlete, Meyers-Taylor is also a dedicated student. She holds a master's degree in sports management and a bachelor's degree in exercise science, both from George Washington University, and is currently pursuing her MBA in finance at DeVry University's Keller Graduate School of Management.
"Meyers-Taylor stands out in every arena she pursues, from achieving academic excellence to medal-winning athletic performances," says Michael Cubbin, president of DeVry University's Bay Area Metro. "As with all of our students, we look forward to supporting her future career – and athletic – goals."
When Meyers-Taylor is not training or studying, she actively supports the Women's Sports Foundation, Children's Healthcare of Atlanta, international humanitarian organization Right to Play and Classroom Champions, an organization that teaches students Olympic values. She is also an athletic director on the U.S. Bobsled & Skeleton Federation Board of Directors and recently married fellow bobsledder Nic Taylor.
DeVry University is an official education provider of the United States Olympic Committee. With more than 100 student athletes currently enrolled, DeVry University and its Keller Graduate School of Management provide higher-education opportunities at the undergraduate and graduate levels to U.S. Olympic and Paralympic athletes and training hopefuls.
About DeVry University
Founded in 1931, DeVry University is one of the largest, private sector universities in North America. The university's mission is to foster student learning through high-quality, career-oriented education integrating technology, business, science and the arts. With more than 90 locations, DeVry University delivers practitioner-oriented undergraduate and graduate degree programs onsite and online that meet the needs of a diverse and geographically dispersed student population. Home to five colleges of study, including Business & Management, Engineering & Information Sciences, Health Sciences, Liberal Arts & Sciences, and Media Arts & Technology, DeVry University's outstanding faculty members work in the fields that they teach, providing students with real-world experiences that prepare them for high-growth careers.
DeVry University is institutionally accredited by The Higher Learning Commission and a member of the North Central Association of Colleges and Schools, www.ncahlc.org. DeVry University, a part of DeVry Education Group Inc. (NYSE: DV), is based in Downers Grove, Ill. For more information about DeVry University, find us on Twitter @DeVryUniv, Facebook/DEVRYUNIVERSITY or visit newsroom.devry.edu.
Photos/Multimedia Gallery Available: https://www.businesswire.com/multimedia/home/20140624005482/en/
Contact(s)
DeVry University
Donna Shaults, 630-353-9013
dshaults@devry.edu
or
MSLGROUP
Emily Kellam, 312-861-5262
emily.kellam@mslgroup.com