DeVry University Appoints Joseph Onorio as President of Tinley Park Campus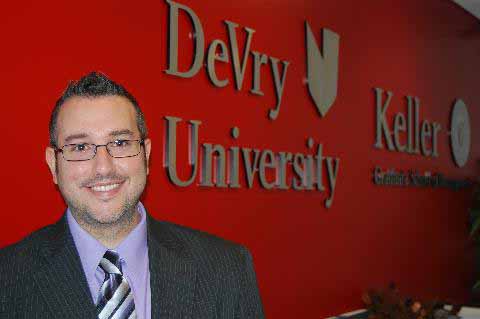 DOWNERS GROVE, Ill., May 14, 2014 - DeVry University today announced the appointment of Joseph Onorio as president of the Tinley Park campus in Illinois. Onorio will manage operations at the Tinley Park campus and oversee admissions and career advising for the students at the university's Tinley Park and Merrillville, Ind., locations (known as the Tinley Park Metro).
Onorio joined DeVry University in 2008 as an associate dean of student services before becoming dean of Student Central at the Chicago campus. He also spent two years as campus director in Seven Hills, Ohio, and most recently served as president at large for various DeVry University locations.
"DeVry University and our students in the Tinley Park Metro will benefit greatly from Joe's vision, leadership and commitment to student success," said David J. Pauldine, president of DeVry University. "His experience leading several DeVry locations and his ability to impact student satisfaction positively add yet another great management asset to our campus leadership team in the Chicagoland area."
Before joining DeVry University, Onorio held various student development roles with the Illinois Institute of Art – Chicago; was the assistant director of campus life at Lewis University in Romeoville, Ill.; and served as assistant coordinator of co-curricular programs at Illinois Wesleyan University in Bloomington.
Onorio earned his bachelor's degree in psychology and mathematics from the State University of New York (SUNY) at Geneseo and his master's degree in educational technology from DeVry University.
About DeVry University
Founded in 1931, DeVry University is one of the largest private-sector universities in North America. The university's mission is to foster student learning through high-quality, career-oriented education integrating technology, business, science and the arts. With more than 90 locations, DeVry University delivers practitioner-oriented undergraduate and graduate degree programs onsite and online that meet the needs of a diverse and geographically dispersed student population. Home to five colleges of study, including Business & Management, Engineering & Information Sciences, Health Sciences, Liberal Arts & Sciences, and Media Arts & Technology, DeVry University's outstanding faculty members work in the fields that they teach, providing students with real-world experiences that prepare them for high-growth careers.
DeVry University is institutionally accredited by The Higher Learning Commission and a member of the North Central Association of Colleges and Schools, www.ncahlc.org. DeVry University, a part of DeVry Education Group Inc. (NYSE: DV), is based in Downers Grove, Ill. For more information about DeVry University, find us on Twitter @DeVryUniv, Facebook /DEVRYUNIVERSITY or visit newsroom.devry.edu.
Photos/Multimedia Gallery Available: https://www.businesswire.com/multimedia/home/20140514006807/en/
Contact(s)
DeVry University
Donna Shaults
dshaults@devry.edu
630-353-9013