DeVry University Professor Selected as Fulbright Scholar
Abhay Ghiara receives award to pursue research on Gandhi in India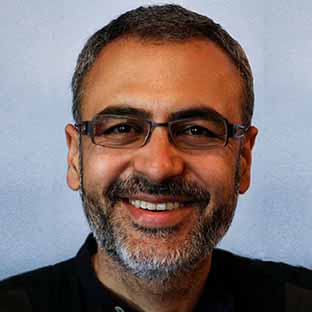 FREMONT, Calif. – Sept. 18, 2012 – DeVry University professor Abhay Ghiara has been selected as a Fulbright-Nehru Senior Research Scholar. He has been awarded a grant to travel to India in 2012-2013 for his research project, "26 Brief Glimpses of Gandhi: Towards a Sequel to the London Performance-Lecture (Performance Studies International Conference)." Ghiara joins the ranks of a distinguished group of grantees that includes heads of state, CEOs and university presidents, as well as 43 Nobel Prize recipients.
A resident of Berkeley, Ghiara is a senior professor with the College of Liberal Arts and Sciences at DeVry University's Fremont campus. In November 2012, he will travel to India, where he spent his childhood, to begin his research under a grant through The J. William Fulbright Foreign Scholarship Board.
"I am honored to be a part of such a prestigious program," said Ghiara. "I look forward to my research in India because of its diversity, religious tolerance and thriving performing arts community. I hope the research will make both my students and colleagues at DeVry University proud."
Ghiara's research will focus on Mahatma Gandhi's life and legacy in nonviolence and its effect on interdisciplinary performance art. The collected research and materials will be used for a 26 part performance-lecture series on Mahatma Gandhi, which will feature writing, visuals and performance. This is a sequel to Ghiara's 2006 performance-lecture presentation given at the Performance Studies International Conference in London.
"We are thrilled to have such a quality educator as Prof. Ghiara on DeVry University's faculty," said Dr. Donna Loraine, provost/vice president of academic affairs for DeVry University. "Professors such as Abhay further reaffirm DeVry University's breadth and depth of academic instruction excellence."
An economist and a performance-artist, Ghiara creates interdisciplinary performance lectures related to culture, economics and society for varying audiences. He has presented at the School of the Art Institute of Chicago, the Performance Studies International Conference in London and the California Pacific Medical Center in San Francisco.
Ghiara has held academic positions at Northwestern University in Evanston, Ill., and the Goat Island Performance Group Summer Schools at the School of the Art Institute of Chicago and Bristol University in the United Kingdom. He holds degrees in economics and yoga from the University of Mumbai, Maharashtra, and a master's degree in economics from Northwestern University.
The J. William Fulbright Foreign Scholarship Board (FSB), under the supervision of the Bureau of Educational and Cultural Affairs of the United States Department of State, recognizes scholars annually by awarding them the opportunity to research abroad. By funding research grants, the program fulfills its mission to encourage a better understanding between people in the United States and those in other countries. Awarded grants are made possible from funding provided by the United States Congress and contributions from partner countries and the private sector. Participants are chosen based on both their leadership potential and academic merit. To date, nearly 310,000 participants have been inducted in the program since its inception more than 60 years ago.
About DeVry University
Founded in 1931, DeVry University is one of the largest, private sector universities in North America, with more than 76,000 students enrolled in the United States and Canada. The university's mission is to foster student learning through high-quality, career-oriented education integrating technology, business, science and the arts. With more than 95 locations, DeVry University delivers practitioner-oriented undergraduate and graduate degree programs onsite and online that meet the needs of a diverse and geographically dispersed student population. Home to five colleges of study, including Business & Management, Engineering & Information Sciences, Health Sciences, Liberal Arts & Sciences, and Media Arts & Technology, DeVry University's outstanding faculty members, work in the fields that they teach, providing students with real-world experiences that prepare them for high-growth careers.
DeVry University is institutionally accredited by The Higher Learning Commission of the North Central Association of Colleges and Schools, www.ncahlc.org. DeVry University, an official education provider of the United States Olympic Committee and a part of DeVry Inc. (NYSE: DV) is based in Downers Grove, Ill. For more information about DeVry University, find us on Twitter @DeVryUniv, Facebook /DEVRYUNIVERSITY or visit newsroom.devry.edu.
Contact(s)
MSL Chicago
Kristin Lane, 312.861.5244
DeVry University
Dan Dement, 619.618.9785