DOWNERS GROVE, Ill., November 10, 2011
DeVry University, one of the largest, private sector universities in North America, with more than 90,000 students enrolled in the United States and Canada, was presented today with the U.S. Commerce Department's Export Achievement Certificate. This award, which recognizes U.S. businesses and educational organizations that have benefited from the export services of the Department's U.S. Commercial Service, was presented to DeVry University for its international student recruitment efforts.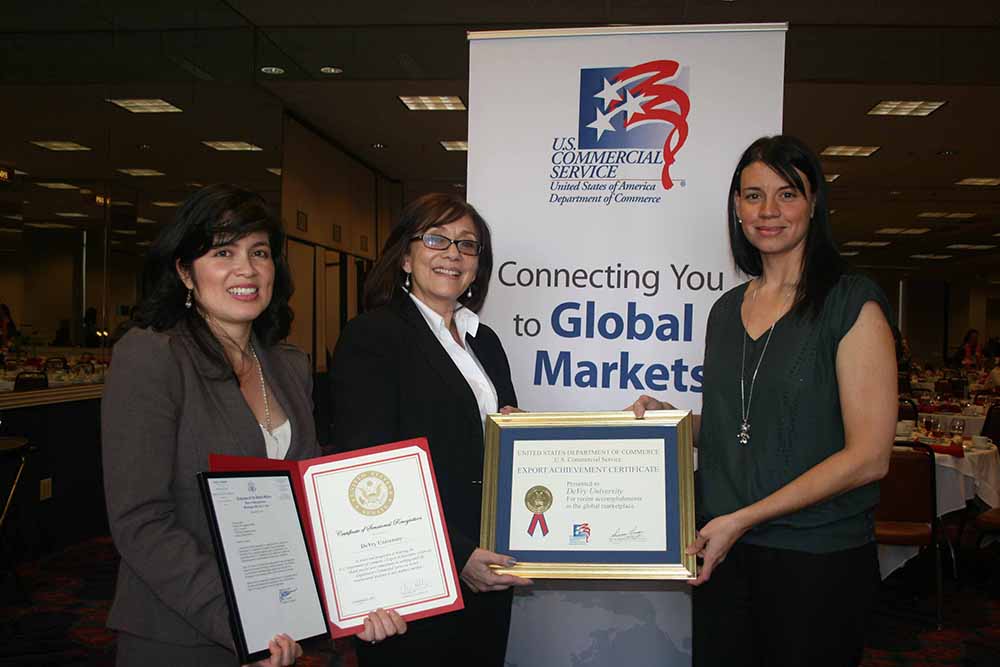 Above from left to right: Gabriela Zelaya, International Trade Specialist for U.S. Commercial Service; Marcela Iglesias, DeVry University Sacramento campus dean; Ashley Carrigan, State Director of the state offices for Senator Dean Heller, R-NV
In 2008, DeVry University initiated an international student recruitment program and contacted the U.S. Commercial Service in Northern California for assistance in developing an export strategy for the university's associate, bachelor's and master's degree programs offered at more than 90 locations across the United States and online. Since that time, the U.S. Commercial Service's global network of trade professionals and programs has supported DeVry University's efforts through trade counseling, business matchmaking, and the recruitment of academic delegations and partnering activities with educational organizations in countries such as Vietnam, India, and China.
The assistance of the U.S. Commercial Service has helped to grow DeVry University's international student population from approximately 300 students in 2008 to more than 1,400 international students enrolled in the university's degree programs, as of fall 2010. Furthermore, the growth of international student enrollment has enabled DeVry University to hire eight new employees for its international admissions department.
"The U.S. Department of Commerce has provided DeVry University with exceptional support and services in our efforts to expand access to career-oriented academic programs around the globe," said David J. Pauldine, president of DeVry University. "We look forward to continuing our relationship with the U.S. Commercial Service, which aims to positively impact lives around the world and reaffirm America's role as a leading global provider of quality higher education."
Higher education ranks among the United State's top 10 service exports. The U.S. is also the largest destination for international students seeking higher education—and tuition and living expenses paid by those students and their families brought nearly $20 billion to the U.S. economy during the 2009-10 academic year. According to the Institute of International Education, that dollar figure is expected to continue rising. In the 2009/2010 academic year, 127,628 students from China and 104,897 students from India studied at U.S. institutions, making them the two leading countries of origin for foreign university students in the United States.
The Export Achievement Award was presented by Ashley Carrigan, State Director for Senator Dean Heller, R-NV, at the NAFSA Region I & XII Bi-Regional Conference 2011 in Reno, Nev.
With offices in 108 U.S. cities and in U.S. Embassies and Consulates in more than 75 countries, the U.S. Commercial Service connects U.S. exporters with international partners. For more information on the U.S. Commercial Service, visit: http://www.export.gov; or its education industry link at www.export.gov/industry/education/index.asp.