FALLING WATERS - Branndon Kelley of Falling Waters has been nominated for the TechColumbus Executive of the Year, an award that recognizes the outstanding influence and contribution an individual has in the community.
According to the TechColumbus official website, TechColumbus is located in Columbus, Ohio, and works with entrepreneurs and investors to develop and launch technology start-up companies, as well as grow young companies. Once a year, the company hands out the TechColumbus Innovation Awards, which "showcase impact of the awardee's contributions in Central Ohio and beyond."
A panel of volunteer judges, made up of leaders in the field of technology and innovation, review all nominations by category. Kelley is nominated in the category of Executive of the Year from a company with more than 50 employees. Out of hundreds of nominees, he could be one of the 12 entries that will receive the prestigious award.
Before Kelley was recognized by TechColumbus, he graduated from Hedgesville High School in 1997 and began an aggressive career path to success.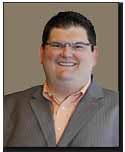 Above: Branndon Kelly (Photo courtesy of The Journal)
"It comes down to how I was brought up," Kelley said, referring to his initial motivation.
Kelley was the first person in his family to graduate from college. He exited with both a Bachelor of Science from DeVry University and an MBA from Keller Graduate School in computer information systems in 2005.
To read the full article from The Journal written by Megan Fisher, please click on the link below.
www.journal-news.net/page/content.detail/id/550987/Local-man-nominated-for-business-recognition.html